2018 Pro AUST #1
2018 Pro WA #2
2017 PRO AUST #1
2016 Pro WA #1
2016 Pro Aust #2
Pro NT #1 2013
Pro Aus #3 2013
Pro AUS #1 2012
Pro WA #2 2012
Pro NZ #4 2012
PRO AUS #1 2011
PRO WA #1 2011
Pro AUS #2 2010
Pro WA #1 2010
Pro Aus #7 '09
Pro WA #2 '09
Pro AUS #7 '08
INT WA 1st '08
AUS #1 Junior '03 '06
WA #1 Junior '06 '07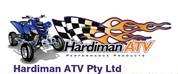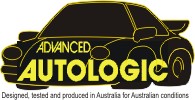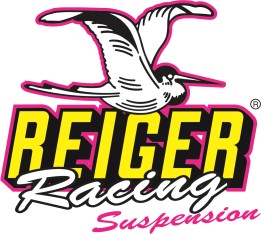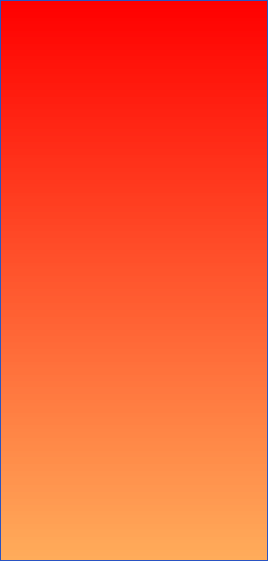 Luke Gaisford
Results to date
WAMX Championships 2007 -
54 Rounds
44 podiums
152 Races
127 Top 3 finish
79 x 1st place

Australian National Moto's Pro
2008- 2018
58 Moto's
43 moto's in top 5
18 x 1st
23 x 2nd
4 x 3rd
2 x 4th
1 x 5th

International Moto's Pro
New Zealand, China, Netherlands
Germany Italy
23 Moto's
1 x 1st

Donate to
Luke Gaisford
BSB 066159 Acc - 10642273
Please include your name as reference -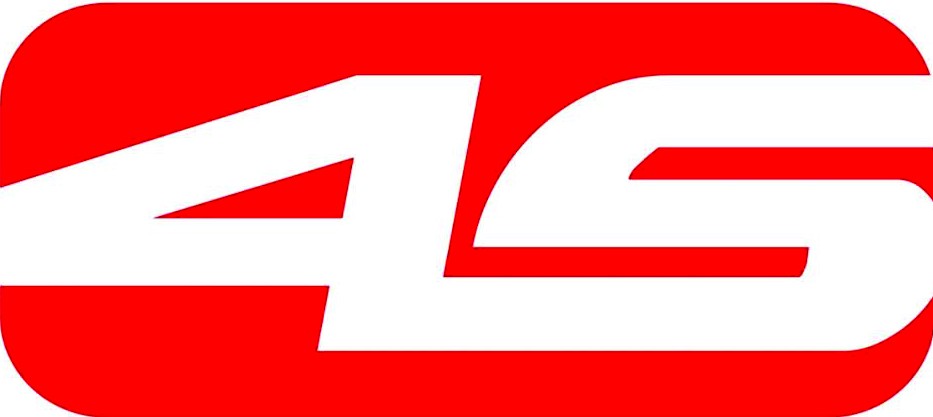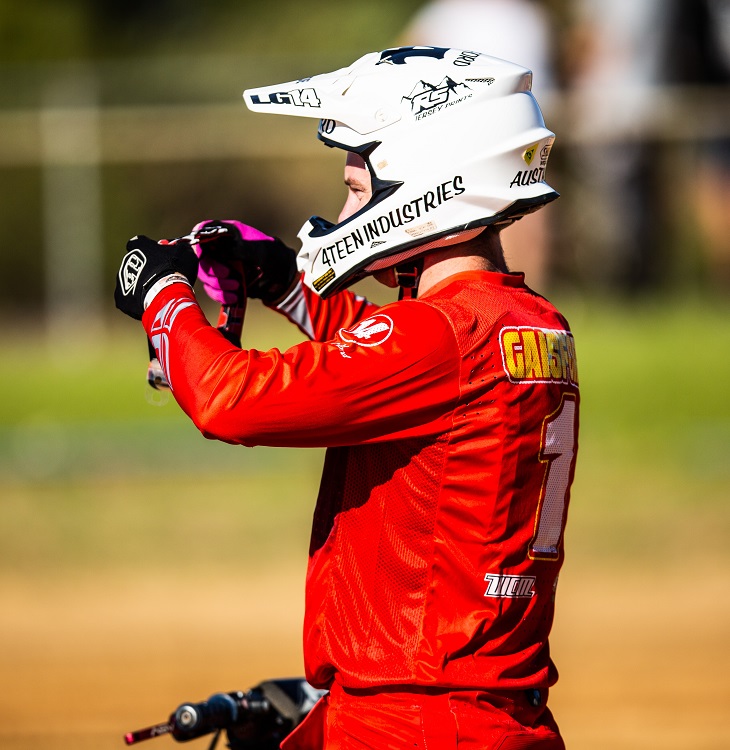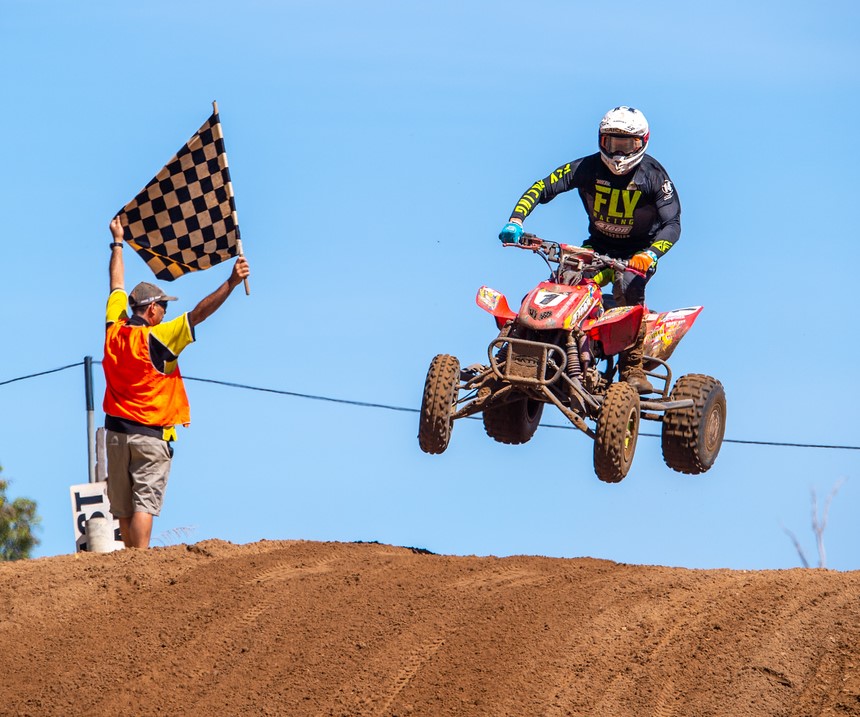 February has been a great month, competing at the 3 round Quickstart Series. 9 Races over 3 weekends, getting back into race mode and enjoying an amazing track at AJS Motorcycle Club. I Won 9 from 9 races. Thanks to all the companies who have supported me long term WestCoast Honda Husqvarna Motul RK Chains Reiger Racing Suspension Advanced Autologic PTY LTD Mindarie Motorcycles Rockingham Signwriters Hardiman Performance Imports Lone Star Racing FLY Racing Australia SHOEI Helmets Australia 4TEEN Industries truespiritphotos.com
March 2019
We have had a long 5 weekends in March and I have been building a bike for the Gascoyne Dash and doing testing and training. Everything seems to be going well ! Thankyou to everyone that has been out on the trails, Blake, Lauren, Colin, Capo, Jason, John, Hayden and Zac. It's been really different to train with others, as while training for Motocross it is usually cutting lap after lap mostly by yourself, the Desert training has been an exciting change.
This weekend, April 7th we are back to the Motocross track at AJS to compete in the AJS Berry Sweet King of the Sand. All classes will be racing including Quads, MX1, MX2 and Vets etc.
AJSMCC is on Wattyl Ave Neerabup, Gates open at 7am, Racing from 9am, Spectators Adults $20 kids Under 16 free.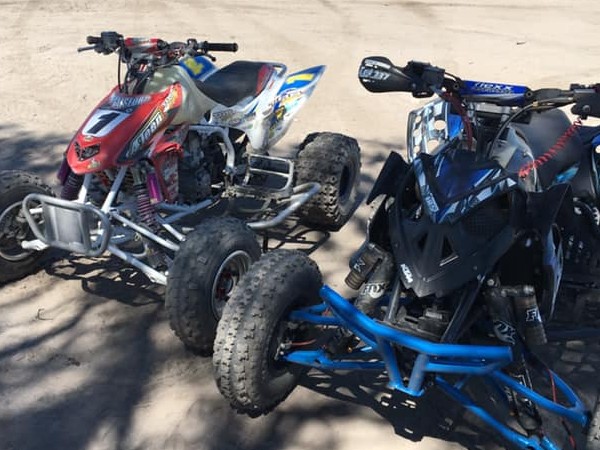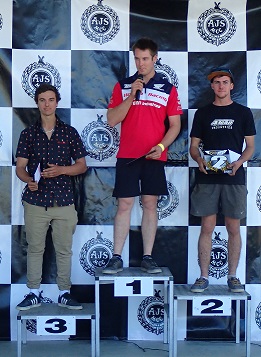 2019 AJS Berry Sweet King of the Sand
was held on April 7th. Luke took 2 holeshots and 3 race wins to take the title of Quad King of the Sand. Track was amazing, Jumps were prepped amazing and laptimes were extremely fast. Looking forward to the Gascoyne Dash on April 20 & 21
Gascoyne Dash April – 20-21
Luke travelled to Carnarvon to experience the whole Gas Dash, taking part
in the Static street display in town on Thursday prior to the events prologue on Friday.
Luke topped the leader board for the 16 strong Quad class and 11th outright in Moto.
The quad class had more entries than any other moto class.
Day 1 – Carnarvon to Gascoyne Junction
Luke was doing well til he realised there was a problem with his bike and limped into the 2nd fuel stop where he fixed the bike.
He got close to the 3rd fuel stop and again the vibrations had caused some parts to loosen but was able to to fix them at the 3rd fuel stop but lost aprox 10minutes. He crossed 3rd in class at Gascoyne 6 1/2 minutes behind the class leader. Luke did all the maintenance on his bike ready for day 2, before an early night.

Day 2 – Gascoyne Junction – Carnarvon
Luke took off about 5 minutes behind the leaders of his class, he passed 2 dirtbikes
but it was all about getting a better time in his class, and to catch and pass his class riders to get into the lead.
At checkpoint 1 Day 1's leader and winner from 2018 was having bike troubles and didnt restart the race, at Checkpoint 2 Luke was told he was 1 minute behind the new class leader, and to just keep chipping away at the time. Luke went into the final checkpoint and while the class leader was still in the fuel zone, Luke took off in front of him to try and get some time up his sleeve and to try to take the lead in the dusty conditions over the final 57 kms. Luke had a good run Tripod to Carnarvon and had to wait to see how much time he had made up, Blake Croonen crossed the finish line and it was apparent that Luke may have won.
On checking times - Luke secured the Gas Dash Win in the Quad class and 15th outright in moto.
Blake Croonen 2nd and Colin Balshaw 3rd, Mike Croonen 7th and Zac who had pulled out after the first checkpoint. It took many people before during and after the race to make this all happen for the entire team, and they all enjoyed the race so much, plans to do more Desert racing are under way. Luke has entered the Finke Desert race in June and with only 6 weeks til they leave has a few changes to make from what hes learnt from the Gas Dash.
This weekend – its WA MX State Championships round 1 at Coastal Park.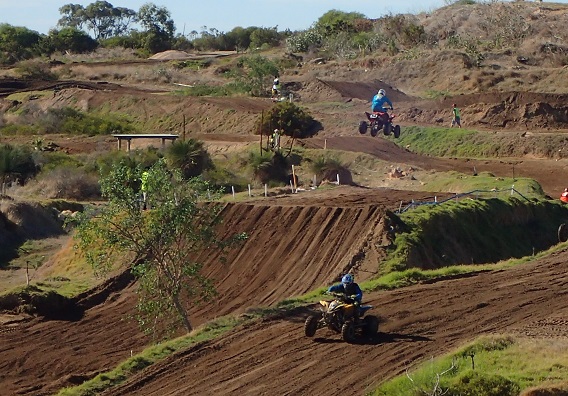 2019 WA MX State Round 1
Coastal Park Henderson
April 28
4TEEN Industries riders had a huge week this week, driving the 2500km round trip to Carnarvon, racing the Gas Dash, and then returning home Tuesday evening, to ready their motocross bikes for state round. Some pretty sore bodies had to be put on the back burner while all energies were concentrated on moving parts bike to bike.
Luke Gaisford celebrated his 150th Senior state round moto while some on the grid where out there for their first.
Results for round 1
Luke Gaisford - 2nd
Zac Croonen - 7th
Blake Croonen - 12th
The day was not without its highlites with the new format of 2 x 10min +1 lap moto's, and a back to back feature of 2 x 3 lap moto's. Being a pretty warm day of 30 + degrees, even though the races were short with just a 5 minute buffer, everyone felt the heat.
With now just 5 weeks til the guys will be travelling to the Finke Desert Race, all training and efforts will be concentrated on Enduro riding.
Become part of the Fuel Fundraising for Finke and become a supporter on
http://www.4teenindustries.com/LukeGaisford2019.html
Huge thank you to everyone who has already come onboard for the 2019 Season.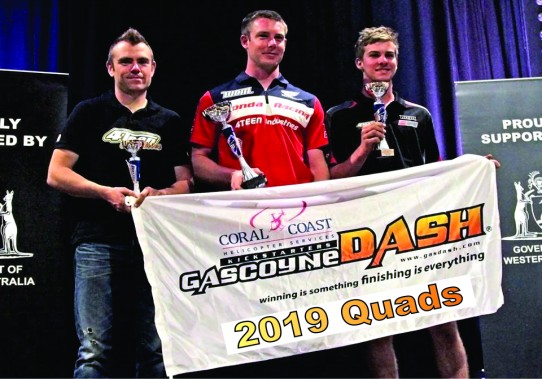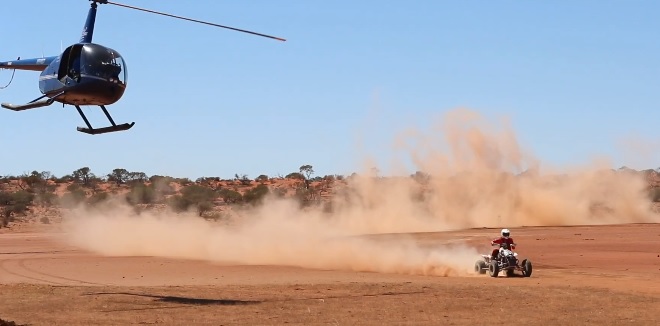 2019 Finke Desert Race
Bit of an update for anyone who doesnt follow my personal facebook page.
In December 2018 - we as a family decided 2019 was going to be a year of doing events that I had missed doing due to Motocross commitments or events I just wanted to do, and never had
This included completing 150 Senior State round Moto's (done) The Gas Dash ( done) and the Finke Desert Race.
The Finke Desert Race was written on our calendar on the fridge for weekly reminders where we needed to be with training and buying in parts, and also trying to fit everything else in with family and friends and to try and not annoy everyone asking them to come out and train with me every weekend. The time finally came we were all ready, packed and set off on Saturday morning June 1 4am for the 3500km drive to Alice Springs.
The drive was pretty uneventful but we utilised snapchat across the Nullarbor to keep everyone up to date where we were, we slept on the side of the road in the free camping areas, while Dad cooked on the camp cooker. (Our return journey saw us squeezing in between the bikes in the trailer due to the rain !)
We got to Alice Springs on Monday evening, had a much needed shower and a good feed of ribs and stretched out in the comfortable beds in the hotel. Early rise Tuesday and Wednesday doing some pre runs, bike setup and some more maintenance. We registered at the event office on Tuesday, caught up with some WA people and then enjoyed the street party on Thursday night. Friday from 4pm was scrutineering where every car and bike were left on display at the start/ finish line for 4 hours for spectators to come and check out over 600 bikes and 150 cars. Trying to leave the complex after it finished was like leaving the Motorplex x 100. Saturday was prologue and the Quads were up relatively early, just 30 minutes after it started, while some classes had an almost 4 hour wait before their chance on the short 6km prologue track. I qualified 1st in Quads and 59th outright out of approx 600 starters, including all the factory bike teams, so was pretty happy.
Sunday Race to Finke - The top 20 bikes start 1 at a time, then grid 21 of bikes is 5 at a time while Quads start 2 at a time, based on the slower rider from prologues time, so I started on the 25th Grid of 133 grids, was pretty awesome, the track was awesome and I got to pass a few bikes and was cruising. The fuel stops were handled by the boys like Pro's and I went onto enjoy the ride to Finke, I saw the 215km marker and at just 11kms to go, the engine gave out without any warnings. I was really disappointed as we had thought we had done everything we could to make the distance, but this wasnt to be. I was in the car on the way back to Alice, which isnt where I was supposed to be, sort of felt like I did practice and didnt get to do the race. On the upside I got to see the track the support crews drive in and out of and the 4.5hour journey back to Alice, so at least got to see what the support crews go through.
We travelled over 8000kms to Alice Springs and back with 6 days just in the car driving, this was probably one of the most expensive events I've had to fund, and would like to show my appreciation for everyone who helped me out with our "Fundraising for Fuel for Finke" that we ran over the last few months on our 4TEENIndustries.com website. I would also like to thank all my long term sponsors who have supported my change from Motocross to Desert Races. Ive really enjoyed Desert Racing and have plans to do more events in the future and will keep everyone updated, about what is next. Motocross ? yes I still see Motocross in my future too !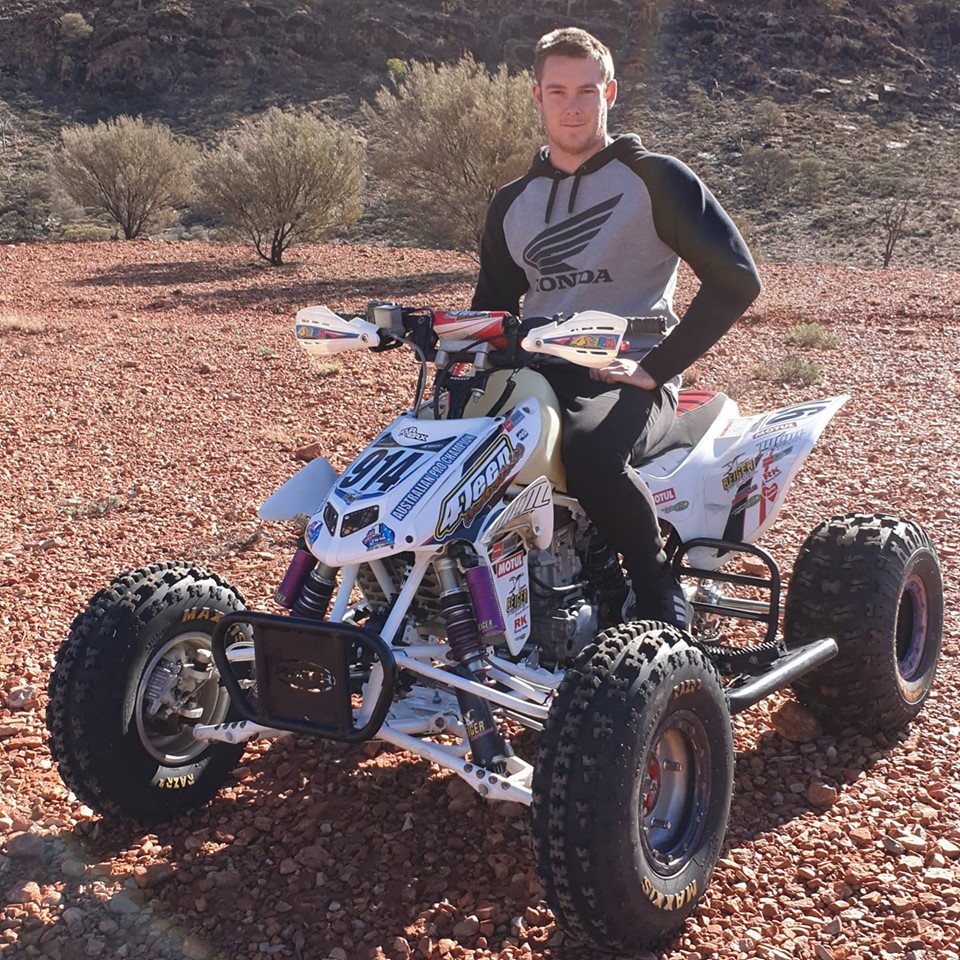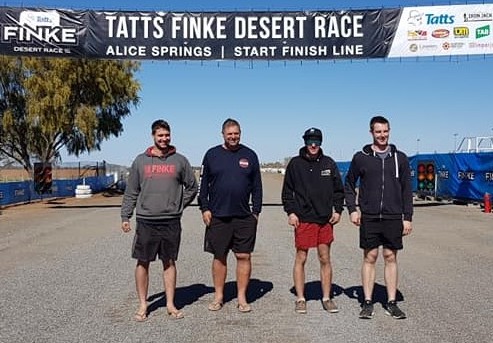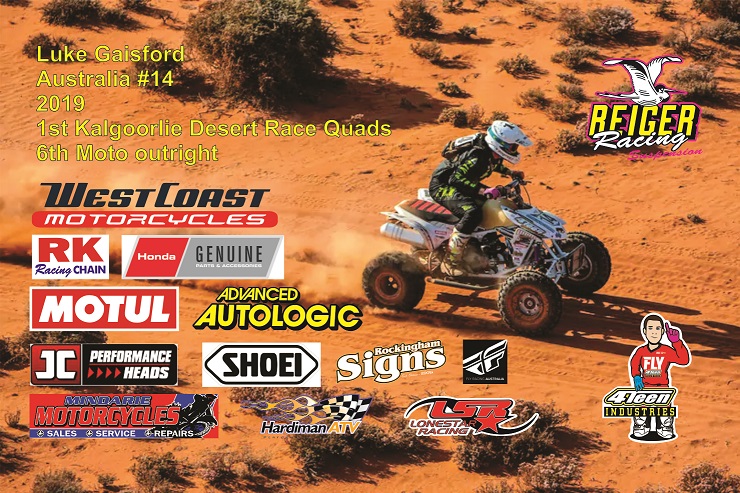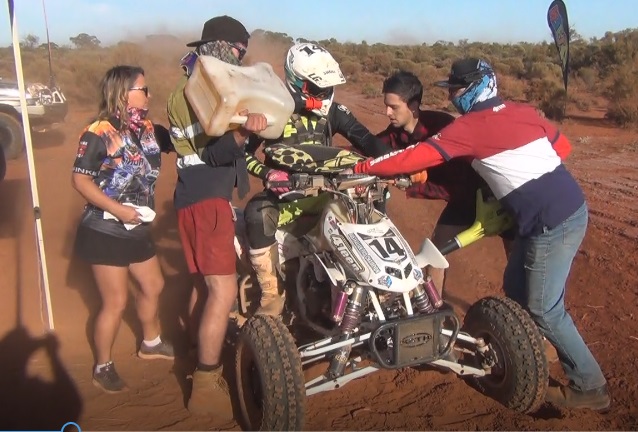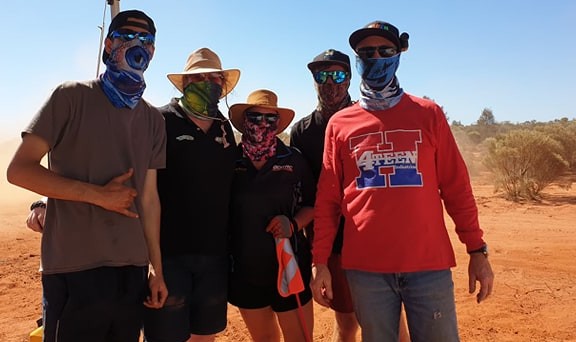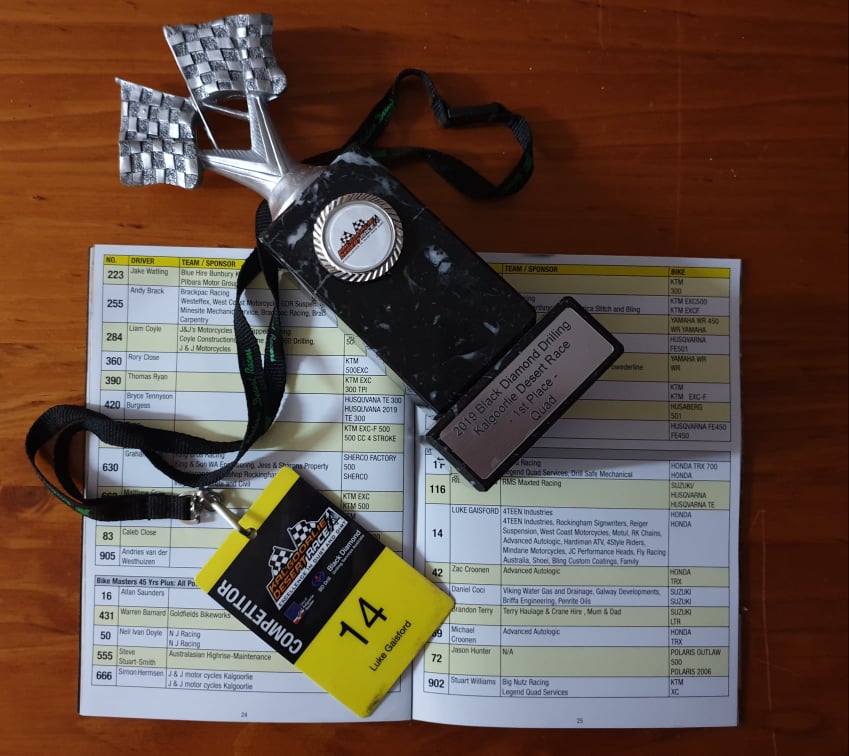 Oct 26 27th we traveled to Kalgoorlie for the 2019 Kalgoorlie Desert Race, held over 375km (3 x 125km laps) and 2 days.
We've spent every hour away from work, prepping the desert quad and training on and off the bike. After the disappointment of Finke,
we double checked everything to give it our best chance to go for the win, we set a goal for a top 10 outright (moto) and with some amazing riders entered in the field of 82 including factory husqvarna riders, it would be a big ask.
Prologue went well with 8th outright, maintaining 9th in lap 1 and 2 and 5th in lap 3, for overall 6th place, and 1st in Quads.
Huge thankyou to my family and friends who came to Kalgoorlie to support me on and off the track, was a really amazing weekend and we hope to go on more adventures in 2020.
Do you want to be part of our crew and know about all the events that are coming up, either to participate or spectate ? Jump onto facebook and like https://www.facebook.com/4TeenIndustries/ and https://www.facebook.com/groups/WesternAustraliaQuadRiderEvents/