2016 Pro WA #1
2016 Pro Aust #2
Pro NT #1 2013
Pro Aus #3 2013
Pro AUS #1 2012
Pro WA #2 2012
Pro NZ #4 2012
PRO AUS #1 2011
PRO WA #1 2011
Pro AUS #2 2010
Pro WA #1 2010
Pro Aus #7 '09
Pro WA #2 '09
Pro AUS #7 '08
INT WA 1st '08
AUS #1 Junior '03 '06
WA #1 Junior '06 '07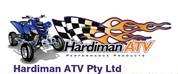 Rockingham Signwriters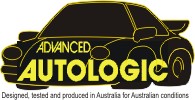 Feb 20 2016
Summercross 2016 1stEvent Report
WA State Championships
Event Reports scroll down the page
China International
Race 1 - 5th Race 2 - 1st Overall 3rd
Event report further down page
Australian Quad MX Championships
Wonthaggi Victoria 2nd
Varsseveld Holland
Markelo Holland
Race 1 - DNF Race 2 4th 35 riders on the grid
Race 1 - 4th Race 2 - 4th 35 riders on the grid
June 5
Manjimup 15000 1st
Event report further down the page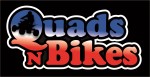 2016 China International Invitational ATV event

Luke Gaisford (5th - 1st ) 3rd Overall,
Luke Capogreco (8th - 6th )7th Overall

Amazing results from the guys, they enjoyed themselves, met a heap of great people who I'm sure they will be friends with for a long time.

May 24
Western Australian ATV MX Riders Luke Gaisford and Luke Capogreco have accepted an invitation from the Chinese Motorsports Association to represent Motorcycling Australia in their International Quadcross event in Dongying in the Shandong Province this week, they will Fly out to Beijing and race against representatives from Belguim, Holland, Italy, New Zeakand and China. Racing will take place at the Dongying International circuit on 27th & 28th May and will be televised live in China.
Luke Gaisford is a multi Australian National Quad MX Champion and State Champion, recently kicking off the 2016 season winning the first Round of the WAMX State Motocross Championships held in Geraldton on May 15th. While Luke Capogreco secured 6th for the round having finished 4th in 2 moto's, on a grid of 20. The boys will return back to WA just in time to travel to the Manjimup 15000 International on June 5th where Luke Gaisford will attempt to win this event back to back, Manjimup is Australia's biggest stand alone race meet which see's International & National riders compete for more than $22 000 in prize money across all 2 & 4 wheel classes.
Luke Gaisford commented "We are extremely happy to be making this trip to China and this month will be one of the biggest in our racing careers, myself and Luke are honoured and proud to represent Australia and both of us want to race for the win"
This event is sanctioned under FIM and the Chinese Motorsports Association.
15-5-16
WAMX State MX Championships
Geraldton Motorcycle Club had the enviable job of hosting round 1 of The 2016 MX Championships, it was great to see 22 Quads enter which required qualifying, few surprises out there, and lucky all the 4TEEN crew secured a spot to race. I qualified with a 1.59 which was good enough to gain first gate pick.
Through out the 3 moto's I got holeshot in the first 2 moto's and won all three Moto's. I guess everyone wants to know how I'm feeling physically, and I can assure you theres more strength and fitness to come,
when your at 100% its amazing, makes racing much more enjoyable, but Geraldton was a good weekend and I'm looking forward to our next race meet.
Thankyou to everyone that has stuck by me, helped me to regain my speed and fitness, helped build a new race bike, the old girl was getting a little long in the tooth but I would have no hesitation to race her at any race meet anytime.
Thanks 4TEEN Industries, Rockingham Signwriters, Chambers Group, West Coast Motorcycles, Advanced autologic, Fourwerx, Quads n Bikes, Oxyfresh, JC Performance Heads, Fox Shocks, Hardiman ATV, Lonestar Racing, RK Chains, Motul, 4style media, Bling Custom Coatings

Summercross 2016
Saturday Night Feb 20th saw the start of the racing season for WA Motocross. Coastal Park hosted its twelfth running of the event, which converts the existing motocross track by using its two biggest features "Infield" which is a 75 ft table top, and "the bridge" by adding a step up, adding a whoop section, adding a step down and giving the whole track a new look.
This years track as quoted by Luke Gaisford was "fast and flowing and fun"
Luke Gaisford taking the outright win, his 6th win in a row at Summercross and 7 in total.
Luke Gaisford thanked his sponsors and Team riders for their support coming back from an injury that saw him off the bike for 4 ½ months ending his 2015 season.
Luke set a target back in August to be back for Summercross and was happy to achieve his goals.
4TEEN Industries, RK Chains, Motul, Rockingham Signwriters, Advanced Auto Logic,
Oxyfresh Australia, Fox Shox, Lonestar Racing, Chambers Group, Hardiman ATV,
JC Performance heads, Fourwerx, Quads n Bikes, West Coast Motorcycles, Bling Custom Coatings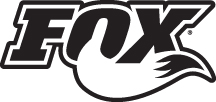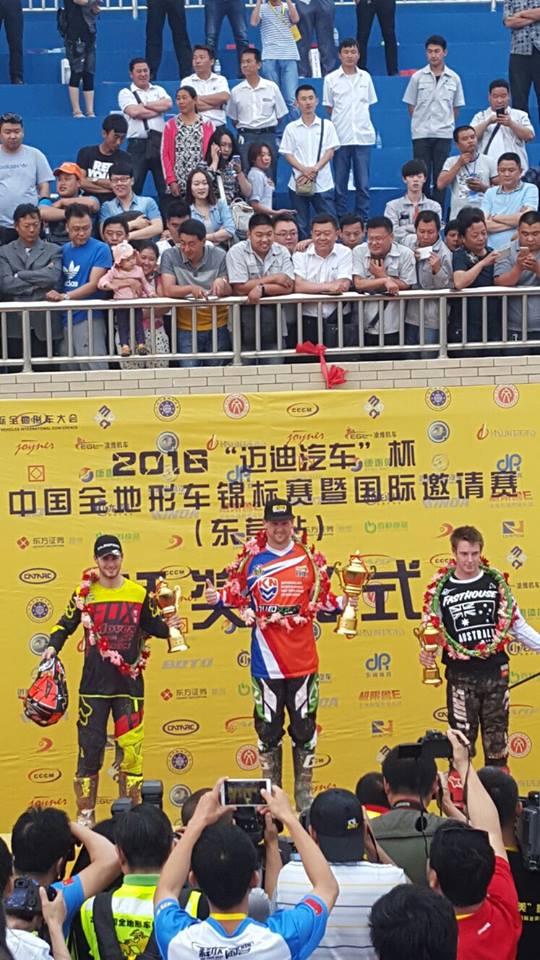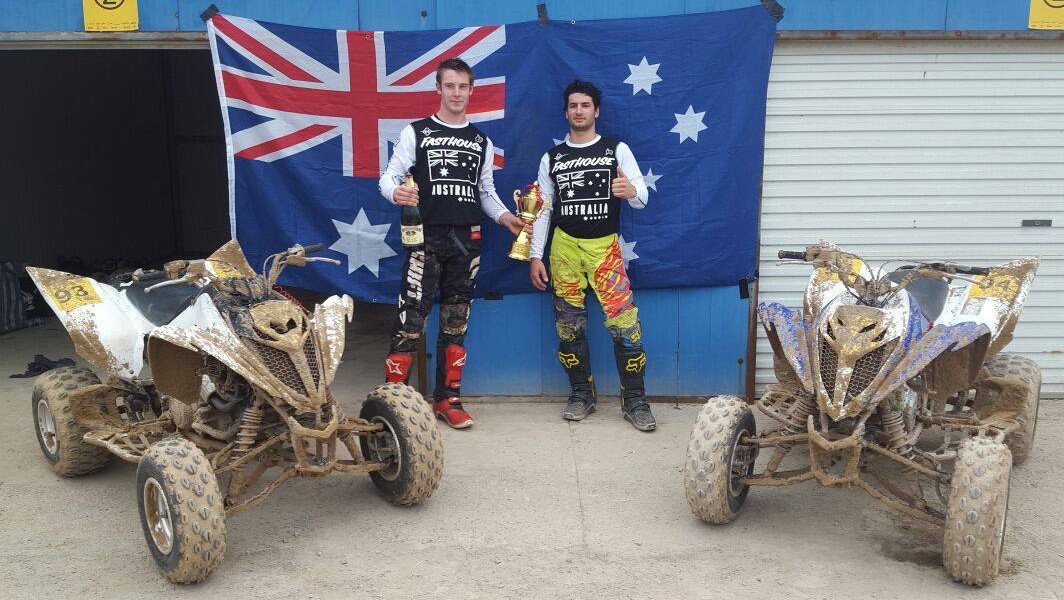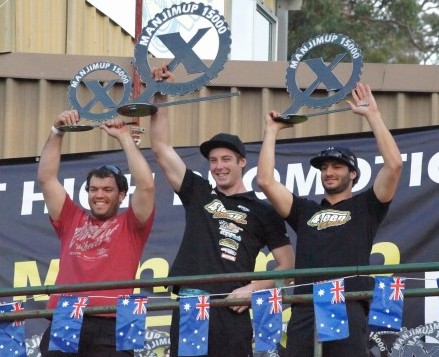 Luke Gaisford took the win today at the prestigious Manjimup 15000 International.
4 races 4 wins, backing up last years Manjimup win with this one.
Luke stated he felt great on the bike all day, it ran great and he enjoyed the racing,
and that the atmosphere Manjimup brings is like no other.
WAMX State MX Championships Round 2 heads to Noble Falls in just 2 weeks !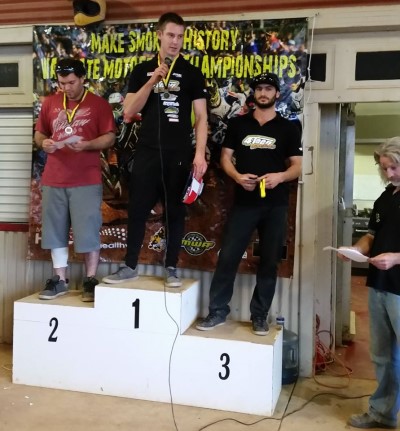 WAMX State MX Championships Round 2
Noble Falls
19-6-16
Had a great day ripped 2 holeshots and 3 wins. Track was very fast and fun tried really hard to catch the dirt bike lap times but them boys where on fire today.
Big thank you to all the ppl that are helping me and supporting me this year.
Luke Gaisford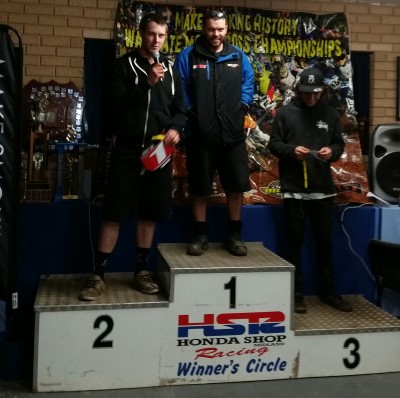 From a really bad start to the day with race motor taking in alot of water and big crash in moto 1 to going 5-1-1 and 2nd over all so pretty happy with myself. Big thank you to everyone that helped me today get my bikes ready to race.
@david_norman41 @capo49 #4teenindustries Rkchains Motul Rockinghamsignwriters autologic oxyfresh_australia foxshox #?lonestarracing Chambers @hardimanATV jcheads @fwcarbon quadsnbikes westcoastmotorcycles supportthosewhosupportthesport?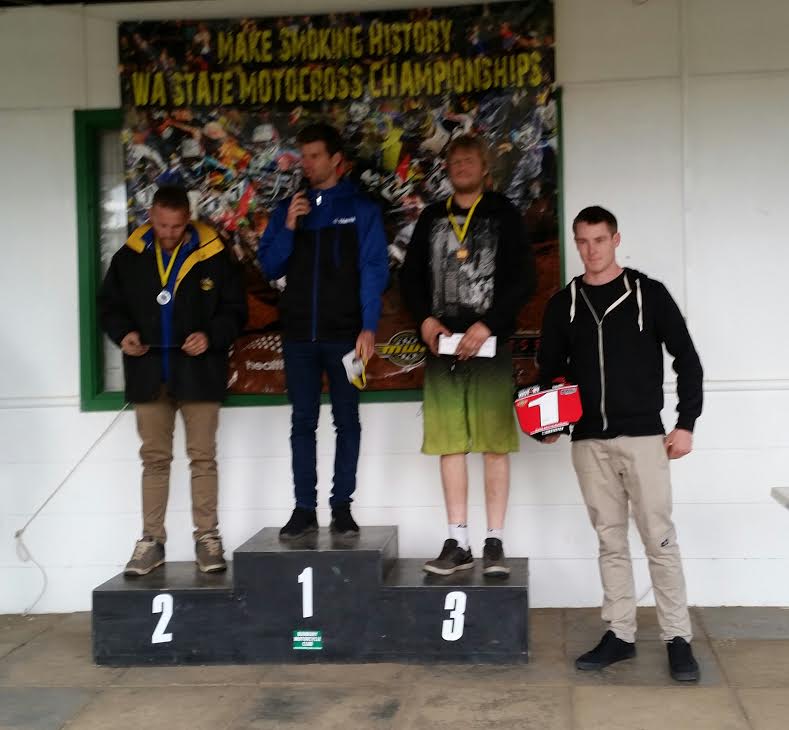 Luke Gaisford posted " Today didnt go to plan 13th dnf 1st but still have the points lead. Well done to Tyron Robertson on taking the moto wins and his first over all well done man"
WAMX State MX Championships
State Round 5
Southern Cross
This weekend August 14 we travelled up to Southern Cross, a Hard pack track that was slick and fast.
Unlike Perth, Southern Cross hadnt experienced a drop of rain, and even though they attempted some watering throughout the day, it dried off in the 24 degrees as it hit the ground. the track was dusty but amazing.
Qualifying - 1.39 which is 8 sec faster a lap than 2012, (last time there) P1
Race 1 Saw a pretty major tangle, Luke got back to the front with a comfortable lead for the win
Race 2 – Race start was in second at the holeshot, made a quick pass held a comfortable lead and won that moto
Race 3 – first corner tangle again- took off second last 15 seconds behind the field, took a few laps of passing through the dust to get up into 4th, made some amazing passes on the front 3 riders built a healthy lead and took the win.
Luke stated"Although tangling in the first corner doesnt make for a good day, coming back through the field, putting down some great times in some huge races was fun and I enjoyed the day alot, really impressed with how all the riders have stepped up this year, everyone is on the ball every moto"
Luke is off to SA next weekend to hold a coaching clinic and a race meet at Murray Bridge.
Thankyou for all the support, Round 6 is on Sept 18th at Lightweight MC Byford.
Event Report Luke Gaisford 2016 WA Quad MX State Champion
The WA Quad State MX Championships final round 6 was run at Byford MX Track on Sept 18th
It was a mixture of relief and excitement that after the 2nd moto at round 6, Luke had already claimed victory for 2016, but finalised the day with 2nd, as they say, lost the battle but won the war.
Luke now is one of only 3 people to ever win 3 WA Quad state titles, which we are all very proud of, after his accident last year, missing the last round in 2015 while leading and being told never to expect to ride at an elite level again, it was Luke who decided to prove them wrong.
Not happy to sit back and just race in WA, he has travelled to China and the Netherlands in 2016 to race internationally and done exceptionally well finishing inside the top 4 against Europe's and China's best. Finishing 4th in the Netherlands on a grid of 35 Quads on a Quad you've always wanted to race, but find its very different to your own, was extraordinary.
Luke is still in training to complete the 2016 season at The Australian Quad MX Championships in Wonthaggi Victoria on Oct 8th and 9th,
After 3 weeks away racing in the Netherlands he is back at work full time.
Thankyou for everyones support in the 2016 season, it is much appreciated.

2016 ATV MX nationals
Wonthaggi Victoria
Oct 8th -9th

This years nationals had a whole new format of 6 moto's across the 2 days
along with Super pole for Qualifying.

Qualifying saw the top 5 fastest go head to head on a one lap sprint to race off
for the fastest laptime. "Super Pole"
Luke had an electrical problem with his race bike in practice and quickly had to swap over
to his 2013 bike on which he practices on, needless to say he wasnt 100% confident he would even make top 5 on the ole girl but qualified 2nd, then went on to win the super pole, $250 and 3 points, and first gate pick for the next 6 moto's.

He also knew he had put all his eggs in one basket with his race bike, as the 2013 wasnt expected to be ridden.

Starts werent the best, in fact race 1 he was about 13th around the first corner, he got back to 3rd with half a bike between him and second.

Race 2 & 3 the back to back moto's saw 2 x 15 min moto's separated by just 5 minutes gap from the chequers waving of the 1st rider til the gate drop of next moto...
This created lots of excitement with a splash of fuel, goggle swaps, quick drink. Again Lukes starts suffered as 4th gear was shot on the ole girl
and he got a 3rd and 2nd in those two moto's.

Work began to get the Race bike electrical problem sorted and fixed ready for Sunday,
we tried alot of things even swapping out stators, as this has been a problem in the past. Then a last idea found the problem, fixed the problem, tested the fix...
Swap alot of parts back from the 2013 to the 2015 and we headed back to the motel about 9pm.

The Sunday morning we were greeted with the track having been ripped and flooded with water... another decision, change tyres and gearing !
well that decision was a good one Luke took the holeshot, was in second for a lap or two, then first... held the lead and took the win !

Race 5 & 6 were again back to back and about 2 hours after the first Sunday race, the track was now dry, dusty and gale force winds had most of the pits
dismantled to save pit tents. Again change of tyres and gearing to suit the track.
Race 5 saw quite a bit of team racing out the track, with riders racing side by side blocking and rubbings racing was certainly in play.. Luke took a 4th.
Then in the final moto, Luke got up to second quickly, 2nd for the moto and secured the Overall 2nd place for the Championship.
The year has been a big one, WA State #1 3rd in China, 4ths in Holland, 1st Manjimup, 1st Summercross and 2nd in Australia